Prestige PMC 2.0 Multi Cooker Electric Kettle (1 L, White)
Rs. 1,499.00

Rs. 1,499.00
Tax included.
---
---
Description
Preparing breakfast every morning can be a tiresome job. If you are really stuck for time in the mornings, then this multi-cooker from Prestige can be a great companion for you. You can cook noodles, rice, boil eggs, brew soups, tea or coffee by just setting the right temperature and your tasty food or soup will be done in a matter of minutes.
Smart Features
This cooker is designed with features like a concealed heating element, variable temperature control, automatic cut-off for dry heating, ergonomically designed handle, stylish glass lid etc, all of which make it a must-have appliance for your modern kitchen.
Durable Stainless Steel
The durable and elegant stainless steel body make it last for a long time. The cool touch handle lets you touch it immediately after it stops functioning without having to worry about burning your hands.
360-degree Swivel Base
The 360-degree swivel base lets you easily lift and serve with it, while the wide mouth ensures easy cleaning. What's more, because of its compact size, you can use it while travelling or during family outings.
Product Description
Cook, brew, steam and do much more with this Prestige electric kettle. Packed with features like the cool touch handle and a 360-degree swivel detachable power base, this 600 W kettle will certainly make cooking more convenient and hassle-free for you.
Powder-coated Stainless Steel Body
The body of this Prestige cooker is made of powder-coated, high-grade stainless steel, which allows you to cook and even store your steaming food/beverage inside it. Depending on your requirements, you can use this cooker's power switch to toggle between the maximum and the minimum temperatures that this cooker can cook in.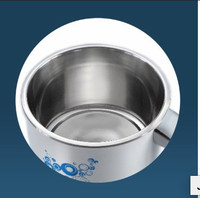 Concealed Element
This cooker's coil is concealed underneath its base. This makes the bottom surface of the cooker flat. This feature helps you clean the cooker thoroughly and conveniently.