Bajaj Majesty New RCX 5 Electric Rice Cooker (1.8 L, White)
Rs. 1,699.00

Rs. 1,699.00
Tax included.
---
---
Description
This electric rice cooker from Bajaj Majesty is going to be your solutions to all your problems with food in your paying guest accommodation. You can now have the kind of rice you like and even prepare simple side dishes over the weekend.
Product Description
You can now avoid the hassle of cooking rice in a cooker or boiling it open as you make use of this Bajaj RCX 5 1.8L Rice Cooker. All you need to do is put the right amount of water and rice, and this appliance will take care of the rest.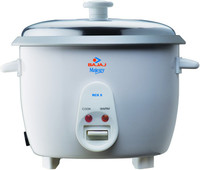 Design & Capacity
Well designed with functional purpose taking precedence, this rice cooker ensures a reasonably large capacity of 1.8 litres. The appliance is designed with a detachable power cord system that lets you remove the power cord when not in use or if you wish to place the cooker on the dining table. The rice cooker comes with a stainless steel lid bearing steam vents.
1 KGRaw Rice
Cooking Capacity
Operation & Usage
The appliance comes handy almost every day and doesn't require you to stand next to it while it cooks. All you need to do is put the right amount of rice and water and let it cook. The cooking functions ensure your rice is cooked to perfection and indicates when done.
Power & Safety
This rice cooker requires a minimum power input of 230 V and consumes a maximum of 550 W of power in order to function efficiently. This device features an automatic shut-off switch for your safety and convenience once the rice is ready. The cool touch handles ensure your hands don't get burnt while handling the hot cooker.
Specifications
General
| | |
| --- | --- |
| Model Number | |
| Type | |
| Color | |
| Capacity | |
| Model Name | |
| Functions | |
| Lid Material | |
| Sales Package | |
Product Details
| | |
| --- | --- |
| Cooking | |
| Non-stick Cooking Bowl | |
| Detachable Power Cord | |
| Measuring Cup | |
| Spatula | |
Power & Safety Features
| | |
| --- | --- |
| Power Requirement | |
| Power Consumption | |
| Cool Touch Handles | |
| Auto Switch Off | |
Other Details
| | |
| --- | --- |
| Other Features | Open Lid SS, 1 KG Raw Rice Cooking Capacity, Lid with Steam Vents |
Dimensions
| | |
| --- | --- |
| Width | |
| Height | |
| Depth | |
Warranty
| | |
| --- | --- |
| Warranty Summary | 2 Years domestic Manufacturer Warranty |
| Warranty Service Type | Customer needs to carry the product to the nearby Authorized Service Center to get the product repaired or inspected. |
| Covered in Warranty | |
| Not Covered in Warranty | Warranty shall not cover any damage resulting from adaptations or adjustments which may be made to the product. Warranty does not extend to cabinets, knobs, labels, or any accessories. Warranty does not cover the risk to the product caused by accident |
| Domestic Warranty | |
| | |